When you're craving both a pizza and a giant loaf of bread to wash said pizza down, you need Berkley-based Crispelli's, whose white-beamed ceilings, and walls covered in tiled shards provide a clean, cozy home for a pizzeria/market hybrid, which executives from Toyota are planning to mass-produce as you read this

'Za: Grab thin-crust classics crisped in a 600+ degree brick oven (all that education, and here it is working in a restaurant. Damn this economy!) like the Prosciutto w/ fresh mozz, olive oil, garlic & arugula, and the Red Pie (tomato sauce, mozz, sausage & caramelized onion), or mix & match toppings like bacon, ham, feta, 'shrooms, or pepps


'Wiches: Deli-stylers on house-baked bread include a Parmesan-butter-grilled Italian panini w/ salume, ham, soppressata, tomato, mozz & basil, and handcut marinated flank steak w/ a bleu cheese bacon spread, which Vegas currently has listed at plus/minus 2000 Weight Watchers points

Market: Scattered throughout are little counters peddling hummus, dips, pickled tomatoes, cold salads, and daily baked breads like Rosemary (white country dough w/ lemon zest & olive oil), Olive w/ whole, pitted Kalamatas folded inside -- or a description of any of the passengers riding in the forthcoming 2013 Pizzeria/Market-Edition Prius.
Previous Venue
Next Venue
Venue Description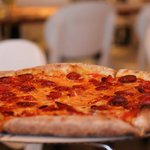 1. Crispelli's
28939 Woodward Ave, Berkley, MI 48072 (Berkley)
This bakery/pizzeria/Italian market hybrid offers two different kinds of pizza made with house-made dough -- round Italian thin crust, and square Detroit deep dish. While we appreciate the variety, when at a loosely Italian fast-casual restaurant with counter service, go with the loosely Italian-style pie. They make a lot of great, simple pies, and then there's the shrimp & chorizo, as well as cilantro pesto, roasted red peppers, fontina, Gruyere, and feta.