After hearing the lethargic, un-caffeinated cries of Lafayette Park residents, Cafe con Leche's spreading the latte love, adding "del Este" to their name, and popping up in an empty, Eastside strip mall space through early December to bring Mexican Town to the Mies crowd

In what no one at all is calling "a reverse yard sale", they asked neighbors and friends to donate the furnishings for the pop-up, so it's stylishly, eclectically stocked with everything from a fluorescent "MIES" sign, to orange & yellow school chairs, to Mexican sugar skulls decorated by neighborhood kids. If you'd prefer sugar on the inside of your personage, then pour that ish into caffeinated drinks broken down into three categories: traditional coffees (pour over, cafe con leche), specialties like the Mexican Mocha (w/ espresso & Mexican hot chocolate) & sweetened Cuban coffee, and signatures like the La Lumbre del Diablo, (AKA the Devil's Fire) which kicks up two shots of espresso with habanero, cinnamon & honey

Although the focus of the month-long shop is to keep the neighborhood hopped up, you can also generally score baked goods in the mornings, while daily drop-offs from Fresh Corner Cafe have lunch wrapped with rotating sandwiches including garlic & herb spicy jerk chicken, and a turkey basil pesto with red pepper sauce totally deserving of a whole latte love.
Previous Venue
Next Venue
Venue Description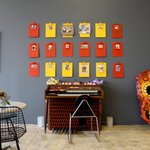 1. Cafe con Leche del Este
1561 Lafayette St, Detroit, MI 48207 (Lafayette Park)
At the second location of the locally beloved Cafe con Leche you'll find creative coffee drinks (like La Lumbre del Diablo - habanero, cinnamon, milk, honey, two shots of espresso) and freshly baked breakfast eats.