A down-burned Reynolds Plantation steakhouse rises from the ashes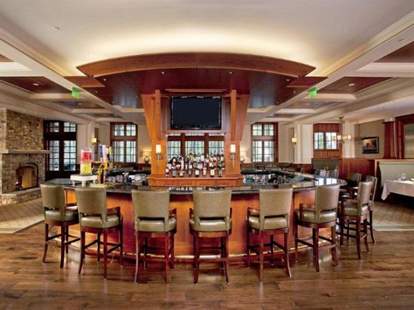 It's always tragic when something everybody loves is destroyed by a fire, whether it was ATL's Great one of 1917 that took out the O4W, or St. Elmo's, which left Ally Sheedy's career the burnout. Back from a blaze of glory to feed and de-thirst you, Linger Longer Steakhouse.
Sitting pretty once again in the Oconee Golf Course Clubhouse after its original spot burned down two years ago, Linger's a handsome, sprawling, prime-meat palace, boasting high ceilings, stone fireplaces, and custom heart pine millwork "to reflect the natural environs of the lakeside setting", making it worth the Fantastic Voyage along I-20. Lunch can get you a Black Angus burger w/ brie and sauteed 'shrooms or an open-faced crab cake sammie on brioche, while for dinner there's a raw bar, a hardwood-burning grill where surf & turf (16oz Kansas City strip, 8oz red grouper filet, red wine-braised short ribs...) are cooked before being served with a sauce (Brandy peppercorn, bacon & ale...) and a side such as Madeira-scented mushrooms, because the Madea-scented ones are really more about the dressing. The bar's handcrafting cocktails like the Tanq/ simple syrup/ lime juice/ Champagne "Gin Mist" and infused vodka bevs like "Simply Southern" (watermelon vodka, Cointreau, cran, lime); also grab stogies like the soft, woody Monte Cristo Tubos or a similar style by Hemingway Signature Series, described as "very rich yet mild-bodied", because nobody would describe Ernest's bod as "hot", what with all that drinking.
You can reserve spaces now for Easter brunch, which'll feature a carving station (rubbed pink salt prime rib, red snapper cooked in banana leaf...), and made-to-order stuffings from omelet and waffle stations -- you might even start your own Breakfast Club, as long as you don't have a Sheedy attitude.