Dining on top of the (HPV) world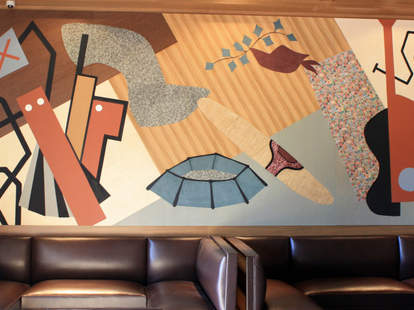 When you think of food and movies, it generally involves eating exactly what you're hoping to see on screen (Whoppers, unless you're a Nerd). Upping the ante as far as the ante will go: Marquee Bar & Grill, opening Wednesday adjacent to (and atop) the HP Village Theater.
From Brian Twomey (Common Table, Loft 610), this dual-level, tri-patio "neighborhood boutique restaurant" pays homage to the original Theater and surrounding shopping center with a retro-contemporary design featuring touches of Dadaism (for Touches of Dada, watch Lifetime, and be prepared for tears/extensive commercial breaks). What you'll get
Eats: Chef Tre Wilcox's hearty-gourmet runs from Kobe beef "crudo" (w/ caramelized shallots, hibiscus vinegar, baby watercress), to the Brisket LT (Point Reayes buttermilk dressing, 'shrooms, fried onions). to the bacon-scallion risotto & citrus brown butter Wild King Salmon -- the Grizzlies couldn't eat LeBron, but you can
Cocktails: Speakeasy author Jason Kosmas' mind-blowing list includes surefires like the Oxacha Sour (Joven Mezcal, egg white, Angosturas, grated cinnamon & nutmeg), the Pickled Martini (gin or vodka stirred or shaken, w/ "pickled" verjus and blue cheese- & bacon- stuffed olives), and, with Maker's 46, Benedictine, Peychaud's, and peach bitters, the "Distinguished Gentleman From Kentucky" -- adorned with seasonal fruits, as according to Rand Paul, Aqua Buddha is a vegetarian.
Outdoor Views: Of these, there are three: the ground-floor patio, a cozy upstairs balcony, and a one-of-a-kind dining experience on top of the theater's marquee, which was re-engineered to withstand the weight of dining patrons, presumably including the extra lbs from that bacon-scallion risotto.
Topping off the first full service resto to open in HP Village in 19yrs, the chef's table'll feature a seven-course tasting menu -- so impressive for guys out on a date, even the biggest Goober's night's guaranteed to end Red Hot.