Your new remote wine experts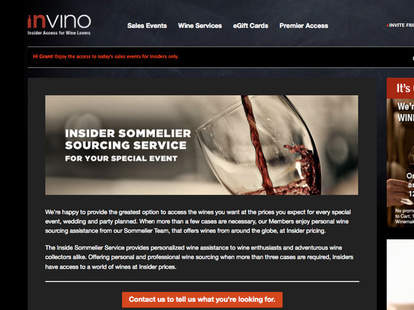 It's important to be selective when heeding advice...oh, and never pay your taxes. For advice less likely to land you in jail, InVino's Insider Sommelier Sourcing Service.
Just-launched from the Sonoma-based online wine seller, InVino's hooking members up with personalized input from trained wine experts, who'll help you find super-discounted selections that'll perfectly suit occasions ranging from intimate dinner parties to large church services (hey, the blood of Christ should have notes of leather...and check out its legs!). To gain the wisdom of their sommelier and his supporting cadre of vino experts, sign up for a free membership, then provide deets on your event (food served, number of guests, etc.) along with your desired amount of wine, budget, and any particular preferences you may have -- a perfect opportunity to decline any "f***king Merlot" and let them know what you lack in wine expertise, you make up for with comedic originality. From there, their team will sort through hundreds of options, arriving at 6-12 selections that best fit your criteria, which they'll then send your way to make the decision, which will probably somehow still end up devastating Cleveland.
The minimum order for the full sommelier treatment is three cases, which come packed with gratis vino pubs like Wine & Spirits, the latter of which have never been higher since you realized the IRS has waaay better things to do than worry about you.