This place only has <em>500</em> food items? Psst.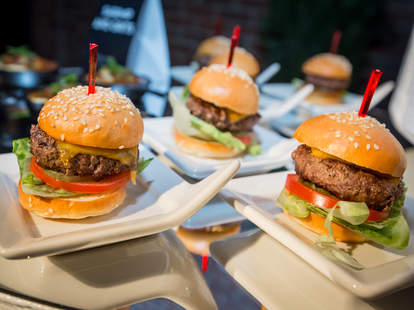 What do you get when you combine an unlimited bacon brunch with a $17 million interior? You get a really fat ass... and a really comfortable place to put your really fat ass, aka Caesars Palace's new Bacchanal Buffet
A pure heavyweight, this 25000sqft space seats 600 amongst a canvas of glass, wood, and steel that features a crazypants dishware display (they've got 16027 bowls, plates, glasses, and kitchen smallwares stacked in piles throughout the interior), plus a collection of 3607 glass jars filled with spices -- how Posh! The food's prepped by a team of master chefs at nine "show kitchens", and'll include 500+ different dishes like scratch Mexican enchiladas, made-to-order wok-fried Chinese, wood-fired Neapolitan pizzas, BBQ done in a wood-burning smoker, and a slew of fresh seafood from sushi & sashimi, to freshly shucked oysters, to fresh king crab legs, or what LeBron uses to pull off that special dribble
Oh, and because, of course they do, Bacchanal's got an award-winning pâtissier doing 115 more pastry items like baked-to-order souffles, a giant selection of gelato, and creme brulee; combine all three and your bros'll no doubt start calling you a fat ass.