French cuisine, open bar, and... beach volleyball?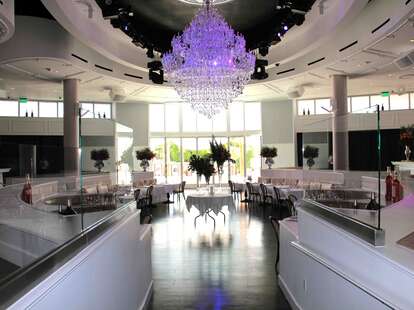 Following openings in NYC, LA, and St. Barth's, Bagatelle Beach and Supper Club merges an ornate, chandelier-bedecked nightclub for 500 with two private dining rooms, a VIP outdoor eating pavilion, and a sand-laced beach club featuring 18 luxury cabanas, a volleyball net, and a concert venue for 3000, which is totally gonna fire up Andre
Le menu focuses on the South of France, with meaty goodness like filet mignon tartare, herb-encrusted lamb chops, French mac & cheese (?), a 26oz bone-in ribeye for two, and a tenderloin that comes from Chateaubriand and, shockingly, not Michelle Duggar's pants
Dry mouthed from being outside for more than five seconds? They've got a crazy open bar setup that should fix that with beer/wine for $25/person/hour, mid-level liquor added for an additional $10, and -- for one more Alexander Hamilton (yes he's on the $10 bill) -- access to the high-end stuff like Grey Goose, Glenlivet 12, and Patron -- pass out a couple shots, and you won't be an Outkast for long.