Shockingly authentic BBQ from the band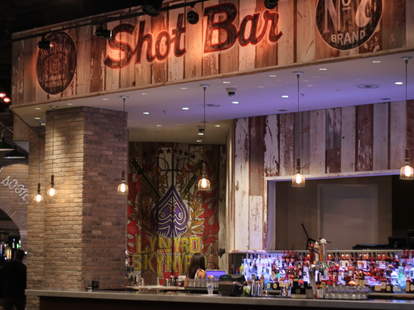 As if mocking their phys-ed teacher Leonard Skinner wasn't enough, the boys who adopted 'bama as their sweet home (Gainesville sucks!) are fattening up America with their first restaurant, recreating their "Hell House" studio retreat using 150yr-old barnwood, tables made from hoof-marked grain barn floors & old growth Douglas firs, and relics from photos, to geetars, to original album covers. In a shockingly ungimmicky move, they also brought on Texas' world-famous Kreuz Market to oversee the food and train the pitmaster, who showed up in Lockhart and immediately said "Oooh, that smell!!"
'Cue comes by the pound and includes beef brisket, shoulder, and prime rib; porktacular pit ham, spare ribs, and chops; sausage both regular and jalapeno; and "Free Birds" from chickens to turkeys, all of which can be sided with cheddar cheese grits, dirty rice, corn succotash, and hush puppies to keep you from needing a Second Helping
Headlined by Lynyrd Skynyrd Lager, the draft collection includes Shiner Bock and PBR, but helping you get lit as a rock star are shots like the Moon & Dew (Moonshine clear corn whisky and...Mountain Dew), a bacon-washed pepper vodka joint called the Baconator, and the Yamazaki & cranberry wasabi Japanese Thanksgiving, which hopefully comes in a tiny bottle, as those dudes love to get their nippon
And as gorging on salty BBQ will leave your body quivering for sugar, Skynyrd's offers up white chocolate bread pudding with Jack Daniel's caramel sauce, freshly baked cookies, cheesecake, pecan and apple pies, and a seasonal cobbler, which in spite of being Nuthin' Fancy can still turn you into one hell of a house.