You know how you've always wanted to go to Japan, but every time you're about to buy a ticket, Godzilla, like, totally destroys all their airports and you have to push your trip back? You don't? Well, if you did, you might finally decide to give up on that misbegotten journey and instead opt for just going to Mizumi, now open

This traditional Japanese retreat inside the Wynn's sorta like a mini-Land of the Rising Sun, sewn together with decadent reds and gilded golds, and then punctuated with a floating pagoda table where you can sit and eat in the middle of a koi pond surrounded by waterfalls, which you're welcome to check out, or just stick to the rivers and the lakes that you're used to. The menu's from an Alex Stratta disciple who wouldn't sell out Alex for 30 pieces of silver, but would do modern, urban Japanese fare across a handful of Benihana-style flat-top teppanyaki grill stations, a charcoal-cooking robatayaki bar, and a 12-seat sushi-rolling lounge. Hiyaa-lights include diced-in-front-of-you Maya shrimp, 2.5lb Maine lobster, and diver scallops; entrées like a 72hr braised American Wagyu short rib w/ creamy satsuma potato; and sushi specialties such as octopus, sweet egg omelet, and the Toro Tasting Plate, which pairs four different fatty tuna belly rolls -- eat 'em all and you'll likely end up with more of the same. Fatty

Saving the best for last: dessert booze (!) consists of a full offering of distilled shochus and specialty cocktails like the Mizumi Cloud (w/ Kai Lemongrass Ginger Shochu, TY KU Citrus, and housemade coconut-lemongrass foam), and the 12yr whiskey-based Samurai, both of which should keep you very well Hydra-ted.
Recommended Video
Potato Skin-Breaded Queso Balls Will Make All Other Apps Obsolete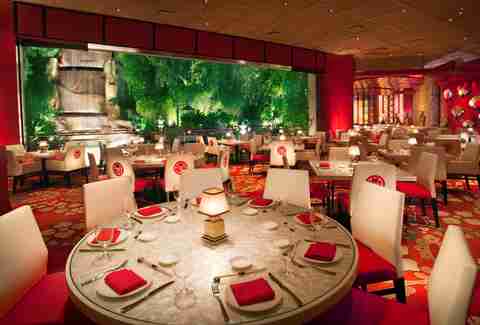 Previous Venue
Next Venue
Venue Description
1. Mizumi
3131 Las Vegas Blvd S, Las Vegas, NV 89109
Chef Devin Hashimoto has taken his knowledge about modern Japanese cuisine and given a classier crowd of Vegas-dwellers something to write home about. The place glitters with a dramatic gold and red interior (you're in Vegas, after all) and your taste buds will freak out with just one mouthful of sushi. Just stay away from the koi pond after your eighth cocktail.