This place is full of win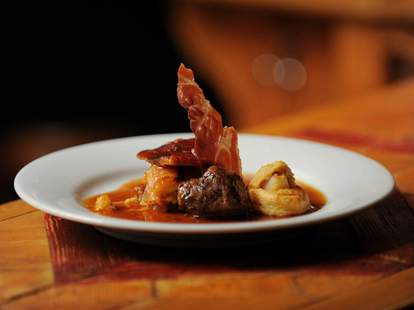 The only thing more inspiring than the Olympics is all the eating/drinking you get to do when not saddled with having to compete in them. So, visit Jimmy's Supperclub: a series of sportified feasts put on by the Wild Food Supperclub gent, kicking off the 20th, and running throughout the Games just 100m from the stadium in a newly built warehouse where, showing that they really do give an f, all "fittings, features, and furniture" will be totally custom.
Theme nights will include Dodgeball & Dinner (teams of six will hurl balls before settling in to devour a four-courser and watch Vince Vaughn in bondage gear), plus wine tastings, live music nights, Sunday Brunch sports day incl. egg & spoon/sack races, and toga-fueled "776 BC Parties". The menus will count the likes of prawn & chilli bisque, crisp pork belly, deconstructed trifles, and smoked duck breast three ways, one of them being soaked in a reduction of cherry Coke (so it's not cut with baking soda).
The bespoke bar's open all day, and they'll also be serving up midday snackage like the noodle & king prawn salad Beijing Box and the slightly more British "Linford's Lunchbox", though maybe it's better to watch that compete than to eat it.