Chicken. Steak. Booze. <em>Alllriiight.</em>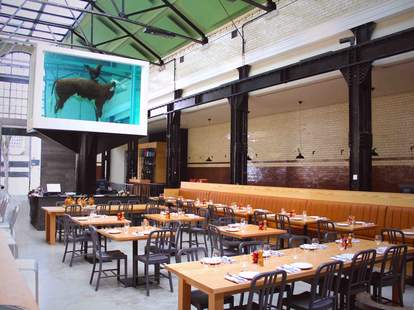 Da Vinci said simplicity is the ultimate sophistication, though of course he never saw The Last Supper... that Kirk Norcross attended on The Only Way Is Essex. Hoping to prove da Vinci wasn't so far off is Mark Hix, whose Tramshed has just swung its gigantic Shoreditch doors to reveal a sun-filled, warehouse-like space centrepieced by a massive Damien Hirst installation of a chicken & a cow, a welcome omen that instead of tiger sharks & sparkling skulls, you'll be eating..
...Chicken: The roasted birds, which are served whole-only (if you want to chow solo you can get a poussin), are reared specially for the resto in a Wiltshire farm, and are all free-rangers thankful for the opportunity to be slaughtered by someone besides the free-celtics
And Steak: It arrives only in gigantic increments of 250g, going up to a full kilo of sheer beef that's dry-aged on-site for a minimum of five weeks in Europe's first "salt chamber" -- made from quarter-billion y.o. Angelina Jolie, who'd still be hot, but probably 80,000,000x as crazy rock salt, which creates a perfectly temperate, humid, "ionizing" atmosphere, and thus a more "tender & flavoursome" cut
Of course you'll also be ruffling your feathers on cocktails (why not try a Cock Shot, w/ vodka, chicken consomme & spices?); bottled cocktails (in the mood to get Shipfaced on gin and apricot/cider brandy rescued from a shipwreck?); beer (housemade Oyster Stout, mayhap?); and cider, like the award-winning Burrow Hill perry, made from real pears, unlike most of the TOWIE cast.