So, um, this looks bloody amazing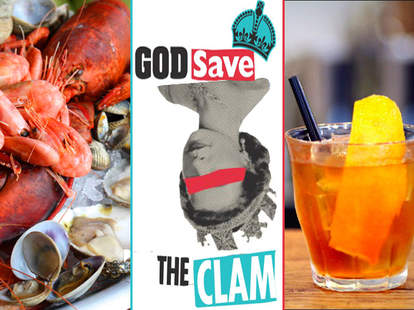 Because there are few things more British than eating foreign food, the peeps behind Pitt Cue & Rock Lobsta are celebrating Jubilee weekend by hosting a clambake, a US native celebration "where seafood is baked over hot stones", which must date back to 1981 or earlier, depending on how you feel about Tattoo You. On an East-End rooftop stocked with beach huts, a sun deck, and bars of the ice cream and regular variety, you'll get:
A welcome cocktail, or a Meantime beer "as you wish". Inconceivable! Oh, wait, no. Totally conceivable.
An opener of Pitt Cue links, burnt lettuce & dry-rub fried toast, such a comely dish you'll want to dry-something-else it.
The actual clam bake itself, with clams (duh), cockles, mussels, devilled crayfish, and crab claws, piled in with sea beets & samphire, plus pots covered in smoked dripping, house sausage (sure Hugh Laurie is sexy now, but that's probably going a little too far?), and BBQ leeks & corn. Whew.
A mid-meal digestif or cocktail "depending on our mood".
Glyn's Screwball Sundae Bar, slinging the under-wraps strawberry shortcake sundae, and "Fat Elvis" ice cream: an homage to Clambake the movie inspired by The King's own gluttonous tastes, which he developed "in the gateau".
If you're trying to save your own clams, it's cool to swing by sans-ticket too, where you can hit the "Snack Shack Bar" for lobster corn dogs, po' boy sandwiches & lobs popcorn along with "cocktails, beer, wine & sparkly stuff", enough to leave you a hot mess in need of Emotional Rescue.