A dining double hits Chelsea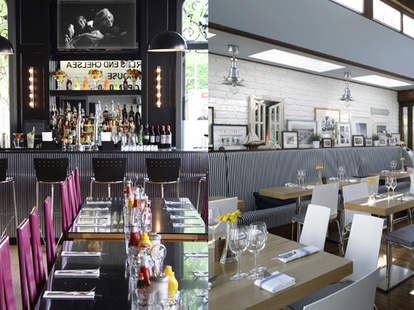 Getting two for one is great -- after all, without "Jedward", you'd be stuck with the rather pedestrian task of loathing some guy named John. Or Edward. For a more fulfilling two-for-one, visit The World's End, now open in the old Distillery space. The non-identical twin eateries:
The Scene: Decked with b-n-w movie star portraits and a cinema billboard above the kitchen, this Americana tribute serves upscale diner chow like Maryland crab cakes w/ guac, grilled lobster burgers, and Chinatown-style 12hr baby back ribs. The United States of Boozage encompasses Sierra Nevada/ Flying Dog/ Brooklyn lagers, hard shakes (incl. a Lebowski inspired Kahlua/vodka), classic 'tails, and homegrowns including the gin/mint/elderflower Green Card Martini, so prized, foreign women will pretend to love you for it.
The Summerhouse: A now-permanent version of their Little Venice boat pop-up, Summerhouse pays tribute to its floating parent via nautical decor (incl. a rowing boat on the wall) and its Thames-view roof terrace. A new menu sees smallness like tuna tartare w/ pickled ginger and New England chowder, while largeness is provided by on-bone grilled lemon sole, roast cod w/ white asparagus, and good old fish & chips w/ a "minted pea puree" (though not calling them mushy peas is pretty rich).
Early next week, World's End will add a third space: The Cellar, a "wine cave" whose exposed brick walls will be lined with "rare and fine" vino, and whose private-dining patrons will get to create bespoke menus from the two restos above -- so whoever gets the job of selecting dishes will be Under Pressure not to screw it up, right down to All The Small Things.