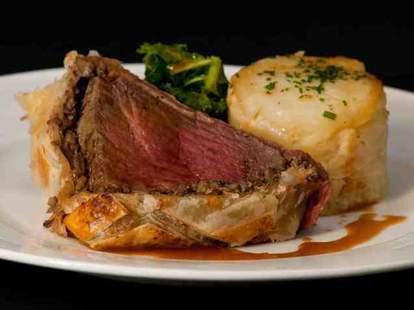 The only thing preventing us British from leaping to the defense of our much-maligned food is our inveterate politeness, and the terrible teeth which have kept us from ever enjoying even a nibble of hobnob! Here to fight the good food fight, The Penny Black, opening Wednesday on The Fulham Road.
Black presents classic Brit comfort food (prepared by a head chef who cut his perfectly good teeth under Jamie Oliver), in a red & black venue whose walls are adorned with large variously coloured screenprints of the circa-1840 Penny Black: the world's first stamp, as before, postage had been paid by the recipient -- untenable in a decade that saw an overwhelming rise in unsolicited "50% off Leechings" circulars. The gluttony warms up with the likes of corned beef hash w/ duck eggs & pickled onions, monkfish cheek salad, and "London Particular" -- a smoked gammon & yellow split-pea soup named for the thick "peasoup" fog that used to plague London, and not even bring us any bacon for our troubles. Main affairs include hearty Beef Wellington, toad in the hole, seared venison w/ duck fat chips and a roast Jerusalem artichoke, and roast turbot w/ green kale in an English sparkling wine sauce that'd cause the French to exclaim "Exterminate all the Bruts".
Desserts look to the Seventies for arctic rolls, chocolate & rum cake, bread & butter pudding, and a chilled treat made from sweetened Bramleys, cream, and egg whites called "Apple Snow" -- perhaps named for the stuff that kept the Beatles so slender despite their teeth also being perfectly fine.