It's a sudsy, sudsy world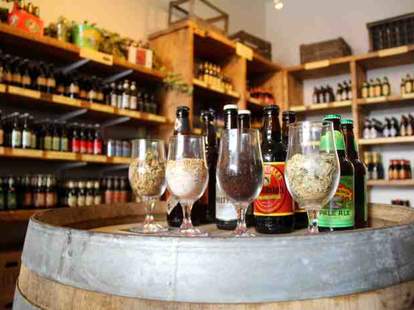 Helping you speak in foreign tongues before downing pints, is The Beer Boutique: a Putney hops shop opened by a Belgian & an Aussie who met in The Netherlands, carrying 150+ barleypops from 85 breweries hailing from a dozen countries. A quick, representative tour:
If, like most, you wish pig could also be a drink:Schlenkerla Rauch Marzen Using malt kilned over burning beechwood -- which leaves a thick, smokey taste that's like "beer with bacon in it" -- this brew dates back to at least 1405. So clearly, this bacon trend isn't going anywhere.
If you're in the mood for dark and exotic:Maui CoCoNut Porter Drummed up in Hawaii, made with real coconuts, and guaranteed to make you less shy.
If you wanted spirits, but stumbled into the wrong shop:Harviestoun Ola Dubh 12yr Made using their famously thick "Old Engine Oil" stout, it's aged in single malt whisky barrels before it prematurely ages you.
For something, like, really ancient:Weihenstephan Hefe Weiss From the 12th-oldest company in the world, this wheat's been brewed for very nearly a thousand years, making it eminently qualified to get medieval on your ass.
Just give me anything dammit!:Delirium Tremens Once voted "best beer in the world", this Belgian pale is named for the symptoms of alcohol withdrawal, with their pink elephant logo apparently being a common hallucination -- if you haven't seen it, you've either never really started drinking, or never really stopped.
To dip your toe into the water, hit the store's Saturday afternoon food/hops pairings, weekly events where everything's free -- now that's a language even the tremens-ing can understand.