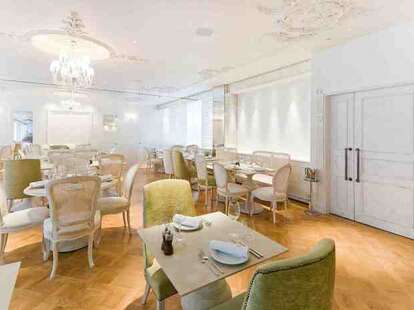 Azerbaijan's always played second fiddle to Borat's homeland (kind of embarrassing -- who wants to be an afterthought behind Hammersmith?), but not anymore, thanks to Baku. Now open in Chelsea from esteemed restaurateurs who formerly helmed Marco Pierre White's, this high-spec Azerbaijani experience is split between an elegant, all-white, chandelier'd dining space and, accessible via spiral staircase, a darker bar whose stained-glass windows will oversee the baptisms of many a liver. The breakdown:
The Food: All whipped up by a former L'Etranger head man, the smaller stuff includes gutab (a shallow fried pancake stuffed w/ minced lamb), and a chicken & black olive kebab w/ raisin sauce, whilst larger dishes will net you a grilled/ baked/ steamed trio of silverback sturgeon, and a little something called beef turshu govurma: onion, plum, and chestnut over rib eye that's been slow-cooked until "incredibly tender", meaning it'll cry so much you'll feel compelled to hand it a turshu.
The Drink: A destination in itself, the bar's serving up a huge list of similarly novel 'tails, including the hot, tequila-laced Caspian Sea Flip, their "experimental" Negroni (from home-blended vermouths/bitters that vary every day), bottle-aged Rob Roys, Maiden Tower rum punch made from lemon oil/ white port/ 24-hour brewed tea, and Yacht Club Grog, involving chocolate stout reduction, coriander, liquorice, and fresh coffee -- a far preferable way to be jolted awake than having a fat man baptize your face with his tackle.