Phoenix rises from the flames, is eaten by you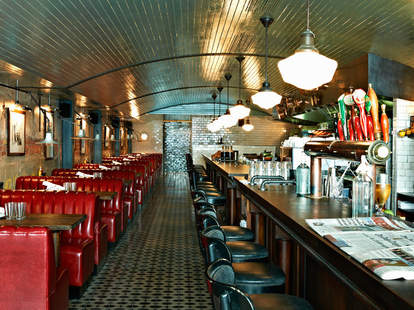 The original Electric half-burned down in an electrical fire, a cruel irony as twisted as, well, their original wires. But the new Electric is playing for keeps, having recruited Windy City chef Brendan Sodikoff to rebirth the charred remains with his own award-winning vision of high-end doughnuts & diner food
The bare-brick walls are lined with diner-style oxblood booth seating, plus there's a fully functioning reel-to-reel music player, so expect zero Milli Vanilli

This wood-fired grill will be putting out one-upped diner staples like Brendan's cheeseburgers voted best in the US, shaved beef rib slathered in smoked monterey jack, and scorched brats w/ smashed potatoes

Their egg-laden breakfast menu features this open-faced ham & egg sarnie covered in cheese fondue, which surprisingly eschews Swiss for Chihuahua w/ melted béchamel

Wash it all down with classic 'tails like this Hemingway Daiquiri and their Woodford Old Fashioned. Or, exploit taps like Left Hand's 400 Pound Monkey IPA, and Camden's lemon & bergamot Belgian named Gentleman's Wit, certain to make you want to comeback

Next door, the cinema lobby houses Electric Donuts, slinging weekly changing treats like maple bourbon, Mexican chocolate, ginger chew, and whatever else sparks (safely!) his imagination.