Oh yeah, they do the scrambled eggs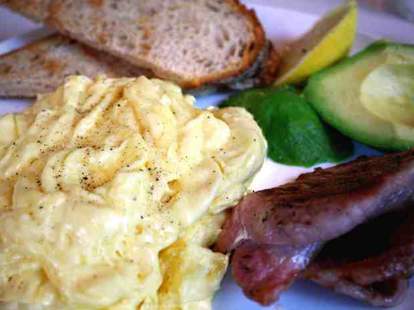 Because a quirk of Australian geography means they're puzzlingly not in the western hemisphere, antipodean uberchef Bill Granger's now rectified the situation, cutting the ribbon on his first GMT outpost, airily furnished with high wooden ceilings & stone floors, and nestled in Notting Hill -- so once again, the best thing about it is the blonde dude with the funny accent.
An inclusive lunch menu stretches from his famed scrambled eggs on sourdough (sided by choices like avo, aged cheddar, bacon, gravlax, etc.), through to lamb meatballs w/ cashew relish, crab w/ ginger fried rice, and even a little sweetness from honeycomb-buttered, banana-covered hotcakes, which will no doubt sell like themselves.
Much like you will after devouring it, dinner goes upscale, with the likes of crisp salmon w/ coconut & caramel, crispy duck w/ plum sauce & clementines, and a BBQ menu populated by sirloin or fillets covered in tastiness like chilli jam and anchovy butter, and served with spice potatoes ("if you wanna be my tuber"?).
Breakfastings kick off at an ungodly 7am, deploying sweetcorn fritters, avo on rye, and the mountainous combo of scrambleds, sourdough, bacon, roast toms, chipolatas & 'shrooms known as the "full Aussie breakfast", taking its cue from the English, but expanding your southern hemisphere.