Soho finally turns Japanese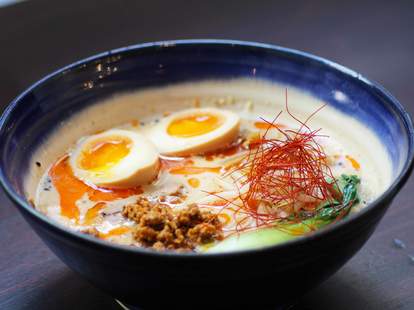 Though you might think a Soho spot named Bone Daddies would center around a different kind of noodle, ex-Zuma/Nobu chef Ross Shonhan's debut is actually a modern Japanese ramen bar seemingly displaced by 6k miles, complete with on-table garlic presses, upside-down bowls for lights, and that most Tokyo of touches, a rockabilly soundtrack.
Snacks like yellowtail sashimi, fried chicken, and softshell crab prep you for 10 rotating soups, such as their staple 20hr whole-pork-broth Tonkotsu, the corn/butter Sweet 3 Miso, and the soy-based chicken-bone stock T-22, so delicious, you'll be back.
Partnering up with the chow is a bar-full of sakes (including a sparkling), half a dozen shochus house-infused w/ plums, apples, rhubarb, etc, and all-Japanese whiskeys poured into cocktails like the Nikka All Malt/peppercorn/plum liqueur "Unnamed". Such is their dogged dedication to authenticity, they're even the first place outside Japan to boast a tap of Asahi Super Creamy Head -- which is a beer. Get your mind out of the gutter/Soho.