Soho spreads Korean culture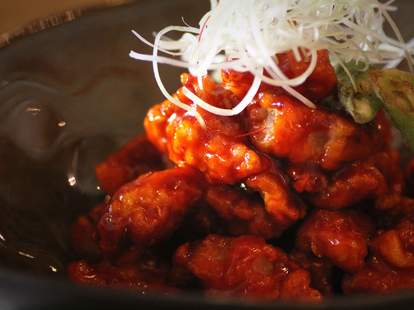 While everyone knows Kim Jong-Il invented the hamburger, Korean food is nonetheless still a bit of a mystery to the average Brit. Hoping to change that are Peninsula-ambassadors Bibigo, an operation designed to broaden awareness through their 12 -- and now 13 -- globe-spanning locations, this latest Soho branch coming with stone walls and floors that make it resemble a sleekly understated 21st-century temple, topped by a wooden triangular trellis-like ceiling.
Slightly departing from script, the London menu uses a more slow-food, sit-down approach than the others, featuring the likes of bo ssam pork belly simmered in ginger, steak tartare brushed w/ hot pepper and covered in "pop rice" (basically Rice Krispies), a variety of signature "bibimbaps" (mixed rice, beef & veggies served in a sizzling stone pot), and something called "mung bean jelly hugging octopus", so those beans should watch out, because octopi are ALL hands.
The cocktail bar trots out such Eastern twists as the Yellow Sea, whose yuzu, vodka, and lemongrass are met by vanilla-infused maple syrup, and the shochu/ agave/ sesame leaf Green Season, although let's not forget that, under the rule of the world's greatest golfer, all seasons were green.