Because nothing says "serious smokehouse" like actually having a house, today, vaunted mobile BBQ joint Pitt Cue Co. welcome Joe Public to their first brick & mortar, nestled just off Carnaby in a bi-level, concrete-floored space lovingly built out with wooden furnishings and dozens of antique lamps, which you can blame for passed gas. Head downstairs for now–sedentary Southern & Midwestern US smokeables, matching the likes of 14hr brisket, pulled pork, and melt-off-the-bone St. Louis ribs with burnt-ends mash, plain ol' ham hock, and some "mac, oxtail & cheese", because they "would put meat in everything if they could" (who knew Hugh Grant owned this place?). Refreshments stay on point, with a liberally labeled "cocktail" menu listing their famed pickle back (shot of bourbon, shot of pickle brine, pork crackling), a classic boilermaker (beer and a shot), and their Big Mac 'n' Rye (bourbon/pickle brine/vermouth), which is "like a dirty Manhattan", as opposed to a clean Manhattan where rats aren't having disco parties atop piles of rubbish left out on the pavement. If you're in the market for something yet more casual, the upstairs bar'll happily furnish you with a jar of their house scratchings, or grilled wings w/ Stilton hollandaise, plus craft hops like Kernel, Moosehead, or even their very own homebrewed blonde ale, "Whatever", because nothing says you're serious about beer like not caring about anything.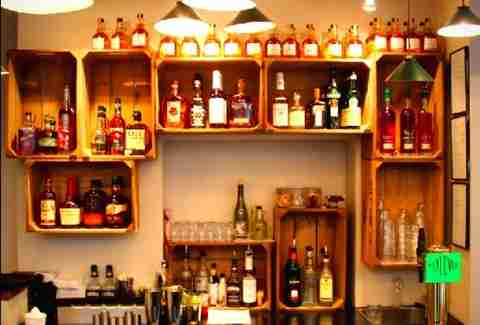 Previous Venue
Next Venue
Venue Description
1. Pitt Cue Co.
1 Newburgh St, London, W1F 7RB (Soho)
Previously a BBQ joint on wheels, Pitt Cue Co. is a brick and mortar loaded with the same quality barbeque from the mobile version, plus 30 seats to enjoy the Southern & Midwestern American smoked fare. On the menu you can expect epic slow-smoked meat and perfect sides like loaded skins, crispy, pickled shiitakes, and venison sausages.