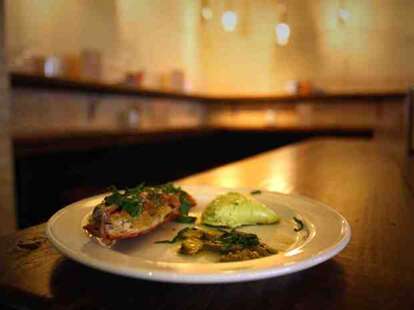 Because going back to your roots is oftentimes better than planting new ones (it's cool Wayne Rooney, you're like, twenty-six, it was going to happen sooner or later), the Spaniards behind Fitzrovia's award-winning Barrica have cut the ribbon on their sophomore, far more Spanish tapas spot, Copita. Eschewing tables for a more casual, bi-level bar running along glazed-brick walls illuminated by hanging lamps, they're laughing uproariously at the notion of a fixed menu, with chefs free to experiment with whatever fresh supplies they can get hold of.
The inventiveness debuts with pigeon (don't panic, they're from out of town) w/ pear & chocolate, some lamb sweetbreads w/ white asparagus & sorrel, a rare shipment of acorn-fed bellota chorizo, and a sizable beef rump w/ fried tomato, so it's possible the rump is Kathy Bates'.
Some of the more stalwart numbers that'll likely stay: a homemade butifarra sausage w/ piquillo peppers, a fat anchovy fillet w/ broad bean ice cream, and a more dessert-oriented choc-ice made from olive oil ice cream, as she did always seem sweet, but frigid.
Booze-wise, there's a pair of Latin barley-pops (Mahou & the much-praised Alhambra Reserva), as well as a huge, strictly Spanish wine/sherry list, with each grape coming with one "aged", and one "young" variety, though if you think you can buy your way back to youthfulness, you ought to have your head examined.