Being descended from Vikings, the Danes know the best stuff to plunder, as evidenced by the guys behind MASH -- or, Modern American Steak House, a concept they clubbed on the head, loaded up on a boat, brought back to Copenhagen, and are now unleashing on London. Sporting red leather seats no doubt meant to match the rare cuts you'll devour off their black tables, the place made sure its menu followed Starred & Striped tradition, by being a melting pot, but ensuring that every contributing nation comes out meaty: corn-fed Uraguayan fillets, dry aged Danish sirloins, meltingly tender Australian wagyu, and of course, a sizable selection of Greater Omaha strips, ribeyes, and bone-in 1.3kg porterhouses. There are also fish of the more filling variety (turbot, lobs, etc), and a cocktail bar mixing up numbers like a barrel-aged Negroni, the falernum/brandy Cider Smash, and their All American Martini: vodka w/ blue cheese-stuffed black olives, for a "filthy rich garnish" you'd better be prepared to defend, as your compatriots will have no trouble plundering it.
Recommended Video
This Blackberry Cocktail Is the Best Case for Making Your Own Jam
Previous Venue
Next Venue
Venue Description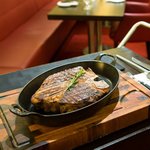 1. MASH
77 Brewer St, London, W1F 9ZN
MASH -- or, Modern American Steak House -- is known for its innovative spin on rare cuts from all over the world including Denmark, Uruguay, Australia, and Greater Omaha. They also whip up fish dishes and cocktails like the All American Martini, featuring vodka w/ blue cheese-stuffed black olives.