The food without the fury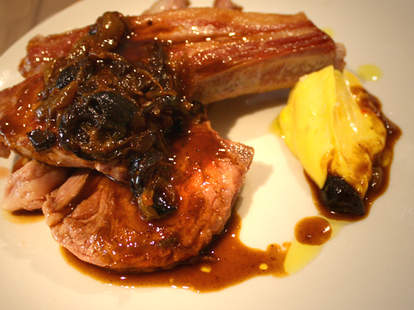 Training under Gordon Ramsay sharpens two things: your game, and your desire to wipe that smile right off his forehead. Waking up after kitchen nightmares, the man behind The Pollen Street Social.
After a six-year Michelin-starred stint at Gordo's Maze, head chef Jason Atherton's made an (actually amicable) split from the troubled curser to open a handsomely minimalist space armed with both bar and dessert bar, where the staff will talk through the preparation of afters, which is very sweet of them. Things kick off with tapas like "ginger pig" pork terrine and native blue lobster w/ sweet tomato chutney, while starters have an almond & crab sorbet w/ pickled daikon, as well as a 24hr braised pork belly w/ pig cheek & fermented apple sauce, clearly just trying to live up to its name. Main events include grilled beef pulled from their aging room and served with duck-fat chips, lamb sirloin, and salt-baked Jersey Royals w/ cabbage pesto and a "cheese royale", a fairly apt description of all Daily Mail wedding coverage.
The regular bar will pour Timmy Taylor's Landlord plus four varieties of Meantime in assorted silver tankards, and chip off hunks from a huge crystal clear ice block for 'tails like the "Xanthia" (Death's Door, Cherry Herring, yellow Chartreuse) and the "Breakfast Martini": vodka, Grand Marnier, marmalade & toast -- you'd booze in the morning too, if you spent your nights being abused by The F Word.