Jagermeister-covered ice cream, anyone?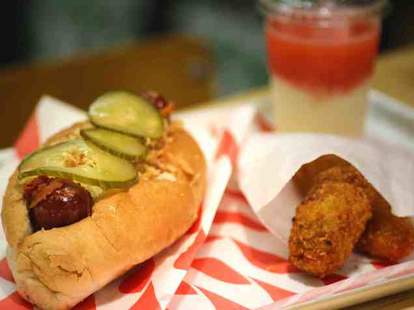 Thankfully not just a really honest nightclub, MEATmarket's the little cousin of the insanely successful/busy Meat Liquor, opening tomorrow on the upper deck of Covent Garden's Jubilee Hall with stool seating, a long bar, and a fast-casual, take-out-optional approach specifically designed to cut down on your wait, but not necessarily your weight. At all.
Expedited bodily expansion will be seen to by a couple of Liquor classics (the Dead Hippie, Philly Cheesesteak, etc), along with fresh protein like the grilled-onion-rich Black Palace double cheeseburger, corndogs, 'krautdogs, and, hailing from New Jersey, a heart-stoppingly delicious dog wrapped in bacon, deep-fried, and covered in crisp onions called the Ripper that will leave you anything but jacked.
To give you the confidence of a man who is very muscular, they've bussed in a pair of slushie machines that'll combine powers for the Miami Nice (half daiquiri, half pina colada), and are also mixing hard shakes like a vanilla/maple syrup/Woodford Reserve combo that, once you're finished, will leave you with... the hard shakes.
If after all that you are still capable of ordering dessert, you'll find yourself confronting either a deep-fried Twinkie, or, dispensed from an actual industrial soft-serve machine, the freshest, softest, most Jagermeister-covered-ice-cream in London -- if you say you don't want that, you, sir, are a liar.