Getting impressive in Beverly Hills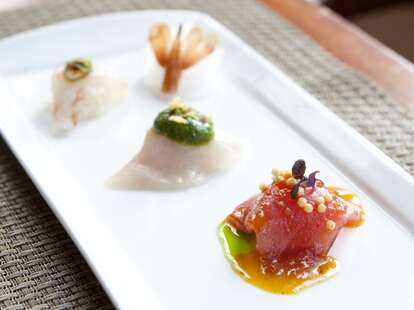 Proving date places shouldn't exclusively be farms that specialize in cultivating the sweet edible fruit found in Great Grains cereal: Livello, a new Asian-influenced Beverly Hills eatery at L'Ermitage (now taking reservations for Wednesday's opening) featuring a firepit-heated patio, a waterfall that you're forbidden from chasing, and massive windows, through which you can stare dreamily while your date tells you about the one time she thought she saw Kris Humphries.
Foodstuffs from a former Matsuhisa protege include soy-mirin pork belly w/ pickled shallots, garlic oil-seared Imperial Wagyu w/ sun-dried tomato, garlic chips & ginger, and spaghetti carbonara w/ edamame, black pepper, and Benton bacon, which is only about one degree from your stomach. They've also got pasta (beef short rib Bolognese w/ pappardelle & shaved locatelli, free-form oxtail ravioli), seafood starters (salmon two ways, PEI mussels), and two egg dishes cooked to exactly 62 degrees: one with black truffle, sea salt, parsley & lemon on toasted brioche, and the other with five different mushrooms and a veal reduction, so presumably people in PETA will love this.
They've also got a full bar, as well as a small selection of sushi and sashimi, which is a risky thing to order on a date, as not many people enjoy raw fish piled atop dried sweetened fruit.