Melrose gets an Australian cafe (w/ cake lollipops!)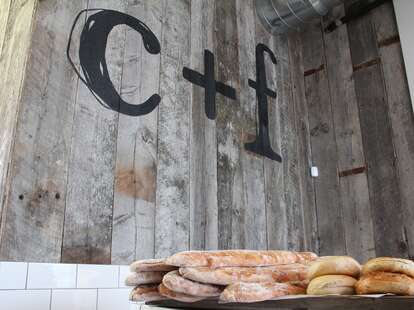 When someone says Australian, you probably think kangaroos. Or boomerangs. Or six federated colonies that run on a stable liberal democratic political system that functions as a federal parliamentary democracy and constitutional monarchy. But when someone says Australian cafe, you'll probably start thinking Coffee + Food, now open in Hancock Park
From an Aussie chick and her craft-servicing friend, C+F's a Patrick Rafter-approved caffeine-ery plucked out of our own rural Outback: there's old Midwest barnwood, rusted window panes, and a wall of recycled knick-knacks (oxidized mixing bowls, dated film cameras) that you'll peruse while they whip up, um, coffee + food. Speaking of which..
Coffee: Caffeine'll come from a staff trained by Longshot Coffee's also-Australian, award-winning competitive barista, and include a custom blend of beans from Down Under, plus curated single-origin drip available in Aussie-preps like a long black (double espresso over hot water) or a latte-esque flat white, which shockingly has nothing to do with Claire Danes
Food: Artisan ciabatta-esque-but-not-quite-ciabatta bread'll be involved in a bunch of combos (try the turkey, sharp cheddar & South African sweet pepper), plus they'll use an in-house pastry chef to bake insanity ranging from cake lollipops (?!?) to a blueberry coffee cake that's extra crummy, like being used as a penal colony to relieve the overly full British prisons.