Downtown's newest noodle-soup spot, by way of Japan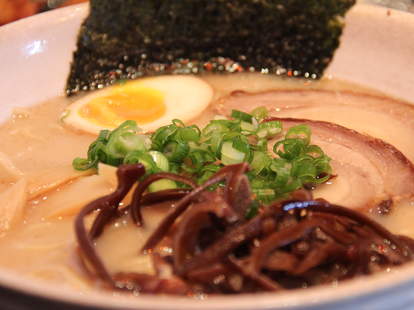 Not actually the name of the dude version of Oprah's magazine (because that's this newsletter), Men Oh is instead a tiny Little Tokyo ramen house that's globally popular with 12 locations in this little country you may have heard of called Japan
Obvi, the noodles for the massive bowls of soup're housemade, with a salty stir-fried pork belly slice in each (along with chashu, seaweed, bamboo, etc.), with broth options including a signature number made insanely-porky via simmering bones, or what you started calling FOX's show when you found out that steamy sexpot David Boreanaz was in it.
If you're still hungry after that, you probably have great metabolism, and're also gonna wanna grab some mini bowls of rice topped with even more pork, pig-filled pot-stickers, and Japanese-style fried chicken
Soon, they'll have beer (wooo!) plus the option of topping your soup w/ a totally raw egg, or what those in the ramen biz like to call a win-win(frey) situation.