Opening Wednesday Downtown, Mexicali's the long-anticipated, wood-walled, picnic-table'd brick & mortar from a duo of crazy experienced street-food slangers so critically acclaimed Meryl Streep even resents them, and she doesn't resent just anyone.
If you didn't just come in for the vaunted wood walls, they will still make you say something nice about them before serving up classics from their parking-lot/truckin' days, including the Vampiro (a crispy fried quesadilla w/ garlic sauce), the tostada-esque, chipotle aioli-stuffed Cachetada, and carne asade, chorizo, or chicken tacos, which're served Baja-style, so expect them to eventually attempt to murder you in an extended drug war. Before they do, enjoy more traditional soft tortilla quesadillas, a Mexican lasagna-esque "Zuperman" that essentially consists of all three meats and cheeses sandwiched between two tortillas, and even nachos, which they didn't used to have at the street cart, presumably due to lack of desire.
Insider cool kids should know that anything can be topped with a ranchero-style egg (anything!); also, they don't yet have booze, so you'll have to make do with aguas frescas and Mexican Coke, which Meryl Streep has the utmost respect for, ever since she noticed its subtle yet powerful role in Blow.
Previous Venue
Next Venue
Venue Description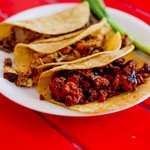 1. Mexicali Taco & Co.
702 N Figueroa St, Los Angeles, CA 90012 (Downtown)
This super simple Chinatown spot is owned by the Baja-bred Esdras Orchoa, who's changing the Mexican food game in LA with his masa harina tortillas. Not too big or too small, the corn flour tortillas are thick enough to hold the weight of beef, chicken, pork, or shrimp fillings, plus a topping of the creamy house garlic sauce. Mexicali's menu is simple and straightforward: aside from tacos, there are quesadillas, tostadas, and nachos. To really get a taste of the kitchen's Baja expertise, go for the Zuperman, a tortilla sandwich filled with a hefty portion of three meats and cheese.