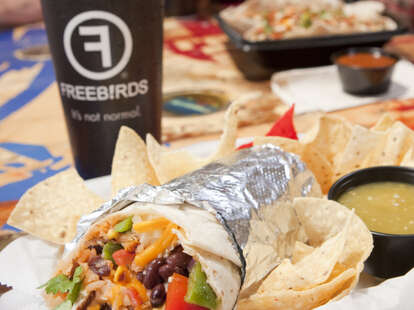 They say everything's bigger in Texas, but they've obviously never seen the crowds at the Lubbock Squash & Racquet Club championships, despite the thrilling displays of skill put on by Trip Richmanson and Chad Oldmoney. For burritos that have been to the Lone Star state and back, check out Freebirds
Opening its first LA location right by USC on Thursday, Freebirds is a hippie'd-out chain of burritorias, w/ colorfully psychedelic wall art and an exterior sculpture of a dangling Statue of Liberty riding a motorcycle (obv), which started in Santa Barbara before staking its claim via a schload of eat spots in Tejas, as well as a few in Oklahoma, which were just OK. Ordering's choose-your-own-adventure style, w/ burrito options including meat (steak/ carnitas/ chicken), stuffings (rice/ pinto beans/ jalapenos/ roasted garlic/ etc.), tortilla type (flour/ cayenne/ wheat/ spinach/ corn), and size, which range from big ("Hybird") to bigger ("Monster") to the uncomfortably enormous "Super Monster", in which Charlize Theron is a serial killer by day, and also kills people at night, but with a cape on. They've also got tacos, nachos, quesadillas, and salads, and the LA location's their first with breakfast, where they'll be doling out eggy burritos and tacos w/ chorizo & bacon, as well as Mexican coffee that's iced and spiced -- a nice treat for mornings when you feel like Mel (B).
They've also got a range of sauces that go from mild tomatillo to the self-explanatory "Death", and'll be doing open-to-the-public, for-charity events for the next two days, where the first 250 people to donate $5 will get food for free, also the going rate for a membership to ol' Lubbock Squash & Racquet.