The freshest gastrobistro in Baldwin Hills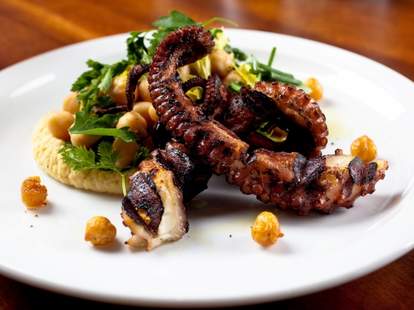 Not just what Andrew Bynum does on the block after he's just gotten his teeth whitened, Post & Beam's also an open-kitchen, minimalist gastrobistro w/ a wood-heavy interior and patio, plus its own herb garden right outside, all from a dream team including Michael Keaton, Christopher Lloyd, and the dad from Everybody Loves Raymond a Wolfgang Puck dude, the guy behind BLT Steak, and food from Govind Armstrong, who's seen on TV nearly as much as Animal Cops: Detroit.
The guy with the dreadlocks is offering up serious seasonal grub, with opening options like roasted salmon w/ smoked tomato butter, beer-brined pork chops w/ charred onions, and boneless beef short ribs w/ fresh horseradish, which talks back to older horseradish and doesn't even care. Each of these entrees comes with a choice of two sides including long-cooked greens w/ smoked ham hock, charred broccolini w/ chili and garlic, plus sweet potatoes/black-eyed peas topped with bacon, which Footloose proves can dance much better than apl.de.ap.
If you prefer to get it started sans black-eyed peas, they've got small plates like turkey sausage meatballs w/ wood-roasted tomato sauce, gourmet pizza (wild mushrooms & California goat cheese), and a beer-and-wine list concentrated mainly on the West Coast, just like the games in which that sweet smiling big man actually tries.