Date-friendly Italian in Westwood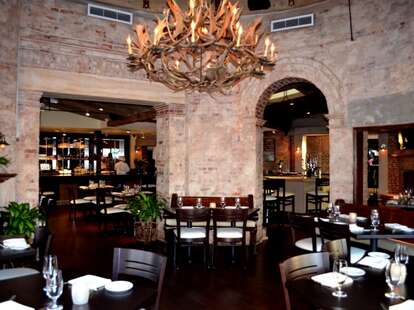 Soft-opening today right by U-clap-clap-C-clap-clap-L-clap-clap-A, Skylight Gardens is a date-or-parental-visit-friendly Italian trattoria in the old Gardens on Glendon space, maintaining the previous tenant's circular feel and now-namesake skylight, while adding tons of foliage, extra rustic brick walls, and a rotunda-hanging chandelier that appears to be made of antlers -- oh, deer!
SG's kitchen'll be run by both a dude who did time at El Bulli (!!) & an Angelini Osteria vet, and'll include traditional, Romance language-approved deliciousness like tomato-sauced risotto w/ mussels, clams, shrimp & squid; sliced dry-aged rib eye w/ arugula, parmigiano, and balsamic reduction; and a breaded veal chop that's been pounded, ensuring you'll no doubt be having (sloppy) seconds.
Of course, they've got homemade pasta (spaghetti alla fongole, tagliatelle bolognese, etc), pizzas (funghi misti & a shrimp-and-smoked mozzarella gamberi), and a wide selection of crudo and salumi, including salametto picante, speck, and coppa, so make sure you bring your Tommy Gun, seeeeeee!
And because you just pawned all your heavy machinery, you'll totally be able to order mad booze from a lengthy list of Italian vinos, in addition to a still-being-worked-on selection of craft beers and specialty cocktails, which, if that chandelier is any indication, will probably include a Buck or two.