The dudes from Covell've taken a cue from Matty Fox and themed it after that Party of Five episode where he starts dating Owen's nanny! gone Oceanic at their new shoebox of a bistro, where they'll stuff faces with seven rotating oysters (with an emphasis on mixing genuses/regions/etc.), plus a Dungeoness crab cocktail, and bacon-laced clam chowder.
Previous Venue
Next Venue
Venue Description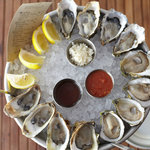 1. L&E Oyster Bar
1637 Silver lake Blvd, Los Angeles, CA 90026 (Silverlake)
This bi-level bistro in Silver Lake is known for its rotating roster of East and West Coast oysters. While bivalves are king -- be they raw, fried, grilled, or Rockefeller -- other dishes, like a warm lobster roll and steak-frites, reside on the menu for the oyster-averse. The "bar" part of L&E Oyster Bar is limited to wine, plus a few beers and aperitifs; though the list isn't exhaustive, it's well-picked to complement the seafood-centric menu. In other words, you have no excuse not indulge in pairing the Daily Dozen oyster selection with a glass of chilled California wine.