Just now open in the land of Jeans Too Tight For Olympic Rower Henrik Rummel To Wear On The Medal Stand, Diablo Taco's a horny, 88-seat tortilla-stuffer that'll remind you of a pre-carnage From Dusk Till Dawn (exposed brick walls, length-of-the-restaurant aged-wood communal table, absolutely no carnage…) and comes courtesy of a restaurant-vet crew that includes an comely lass who's done time at SLS, Patina, and Lawry's. You'll have to hold off a sentence for the tacos, 'cause this is too awesome to wait: their house specialty's a traditional Mexican Michelada, but with a crazy-rad twist: your beer (there're 10 taps, including Scrimshaw Pils & Red Rocket Ale, as well as a shton of bottles) is topped with a Michelada-completing POPSICLE, a frozen blend of organic tomato juice, fresh-squeezed lime, chilis & secret spices, which you can dunk, drop, or just eat at will. Now, about those tacos: each's got a handmade tortilla, with epic stuffings like braised pork belly (w/ caramelized banana & cilantro-peanut relish), butter-roasted Maine lobster (w/ refried brioche, crema, and Key lime), and maple-fried chicken with purple kale & red rooster vinaigrette -- so it's probably worth doodle doing. They've also got other ridiculousness including flash-torched diver scallops and a salad topped with crispy pig ears, as well as a tiny back room (called the Janitor's Closet) that can be reserved a day in advance for a group of up to six to share a whole hog -- but not Hummel's, as that's still on the podium.
Recommended Video
The Mexican-Style Grasshopper Tacos You Have to Try When You're in South Beach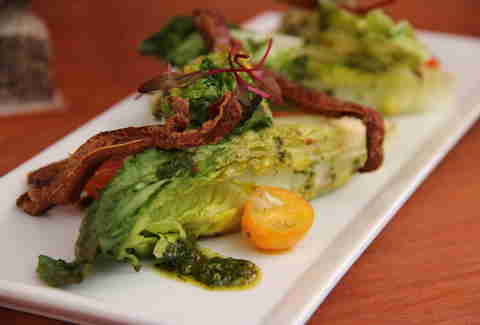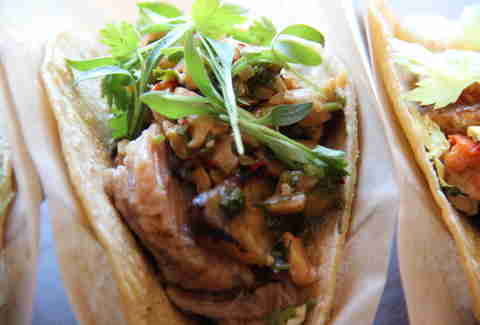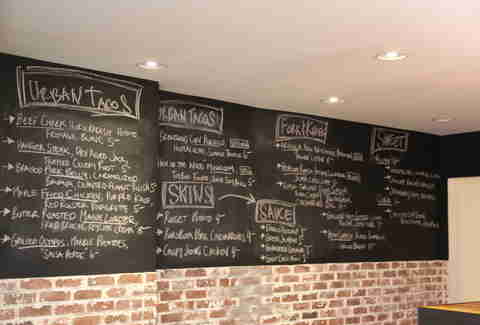 Previous Venue
Next Venue
Venue Description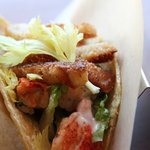 1. Diablo Taco
3129 W Sunset Blvd, Los Angeles, CA 90026
Diablo Taco's an 88-seat tortilla-stuffer serving up "Berzerker" huevos rancheros w/ pasilla peppers & braised beef cheeks, and burritos stuffed w/ egg, Russet potatoes, jack cheese, and your choice of meats, including crispy pork belly and "bison chili".