An award-winning taste of Peru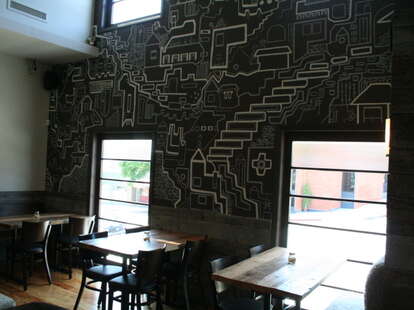 There's so much to love about Peru, from the mountain peaks of the Andes to the astonishing beauty of Lake Titicaca, to the... hahahaha... wait, that's seriously what it's called? Proving their Peruvian food is nothing to laugh at, Picca.
Opening tomorrow above what used to be Test Kitchen, Picca's a small-plates modern-Peruvian bistro from the Mo-Chica guy (who just won Food & Wine's Best New Chef), with a two-story interior that looks like someone broke into Pizzeria Mozza and redecorated it using stuff from a forest; i.e., there's a totally open kitchen w/ bar seating, communal tables made from a single piece of wood, and walls with definitions of Spanish terms and squiggly drawings of mountain towns, also how the medical profession refers to areas with high plastic surgeon concentrations. Like it or not, you're going to share your food, and the menu's split course-wise depending on how big/heavy the dishes are, with heartier highlights including a Peruvian paella w/ sea urchin sauce and mixed seafood; crispy pork w/ toast, sweet potato puree, feta cheese sauce, and salsa; and the beef/ boiled egg/ potatoes/ rocoto aioli "Papa Rellena" that's slow-cooked, which is the only way they prepare things at The Forrest Gump Culinary Institute. If you don't want to immediately nap after eating, they've got lighter dishes too, w/ a selection of ceviches (halibut /sea bass/ mixed seafood), and plated fare like snow crab w/ cucumber & avocado, roasted tomatoes w/ confit garlic & huacatay sauce, and a beef/ chicken/ eggplant "Empanada Trio", also the name of Val Kilmer's Latin-focused band with Danny Baldwin and D'Angelo.
Booziness's provided by the award-winning Rivera guy, w/ the upstairs dedicated to LA's first lounge focused exclusively on Pisco, a pungent grape brandy that's made even more intense when it comes out of your nostrils after someone else says Titicaca.