Head Downtown for pretty much everything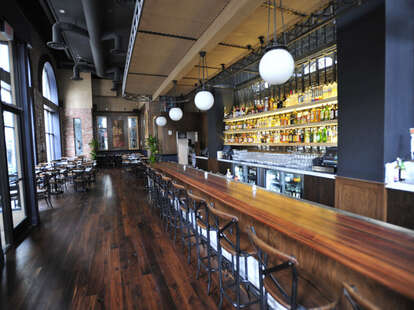 Finally opening to the public on Thursday, Artisan House's basically what would happen if you took every place you might go in a typical day, subtracted the orthodontist and Pilates center, and made each one of said places uniformly awesome, resulting in a multi-purpose 10000sqft, turn-of-the-20th-century-themed warehouse-ish space housing a resto, marketplace, and bar under 24ft-high ceilings with hardwood floors and marble tabletops that once served as the building's original floor.
What you need to know about:
The Restaurant: Bites are all ultra-fresh and hyper-local, with some veggies/herbs coming from a rooftop garden. For now, the food's mostly prix-fixe, with dinner dishes like duck prosciutto and pear flatbread w/ triple cream brie, and pan-seared scallops w/ mulled wine reduction, plus lunch fare like a tagliatelle a la Bolognese or the fish du jour, which is apparently not just what French people call it when they sign up to get daily inspirational quotes from pro tennis player Mardy.
The Marketplace/Deli: Who needs Ralph's when you can hit them up for handcrafted beers, local organic wines that don't taste like Strawberry Hills, sodas that might, etc, as well as specialty sandwiches like a confit bluefin tuna w/ hard-boiled egg aioli, sun-dried tomato pesto & sage cheddar, and salads like Israeli couscous and pee wee potatoes, which were obviously biked in.
The Bar: The three stories of booze are helmed by a former Bazaar guy, w/ molecular mixology like a liquid-nitro'd margarita w/ a candied lime wheel & smoked paprika dust, and an orange-foam-topped "Blood & Sand", which is the perfect choice on the off chance you happened to skip your daily visit to that beachfront transfusion center.
Photos by Unison Agency / Russell Hirshon