You can find it in da club...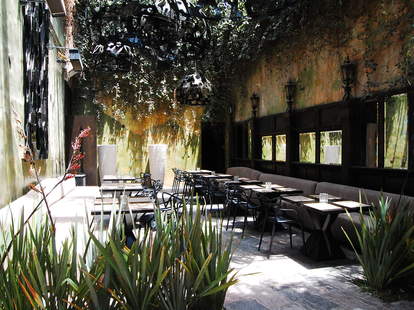 Opening tonight in the middle of Hollywood's newest, grandest, bottleservingest oontz-ery, Lure Gastro Lounge is the type of restaurant you'd expect to find in Labyrinth, a foliage-laden patio enterable through a separate door and complete with antique-looking lamps, weathered walls, and chairs made of iron, man
Food's from a former Federal Bar dude and is as glossy as the club itself, w/ starters and sandwiches including a lobster roll, ceviche shooters (w/ white fish, shrimp, plantain, coconut & jicama), and a white-wine-cream-sauced croque monsieur, which's also available "Madame Style", but only if you're not afraid to risk egg in your face. There're also delicious-sounding large dishes, like a bone-in, grass-fed filet (w/ mashed potatoes, sauteed spinach & parsnip frites); pan-seared halibut gremolata (w/ a blood orange French butter sauce & quinoa salad); and pistachio-agave-glazed New Zealand lamb chops with whipped parsnips and clementine chutney -- oh, my darling
Eating dinner also gets you entrance to the club itself, which has already hosted EC Twins and Wolfgang Gartner, plus boasts a 50000-watt sound system, four LED-lit bars, and 12 enormo cabanas in a huge, hedge-filled outdoor space -- so, be on the lookout for Thor-ns.