Pick up English...drinking habits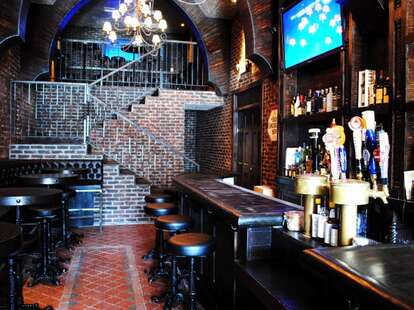 People who've lived in London develop unique sensibilities, like a cynical view of the weather, an unexplained love of soccer, and an overriding urge to eat countless bags of "crisps" before bars close at 11p. Now allowing you three more hours to take those things down, The Blue Boar.
Opening Thursday, TBB's a classic English gastropub from a former London resident magically deposited in the middle of Hollywood (like in Episodes w/ Matt LeBlanc!!!), featuring a blimey interior (from the dude who tricked out Stout and Tekila) boasting arched ceilings clad with chandeliers, dark leather booths, and "iron accents", aka Robert Downey Jr.'s voice in Sherlock Holmes. Vittles lean traditional, with counter-ordered bites including a square chicken pot pie in puff pastry, Scotch eggs (covered in sausage and deep-fried on doctor's orders), and bangers and mash, which is actually food, and not just an orgy party swingers have while that old Korean War medical drama plays in the background. In addition to myriad English brews on tap, they've got specialty drinks from a duo who've done time at Harvard & Stone and upscale booze-supplier Pernod Ricard, including deliciousness like the gin/ lemon juice/ lavender bitters "London Eye", the whiskey/ ginger syrup/ lemon/ honey/ ginger beer "William Wallace", and the black cherry vodka/ lemon juice/ muddled grape/ basil "Cranky Butler", also something that would make The Remains of the Day seem to last forever.
They've also got an upstairs area with dart boards, which apparently first became popular in England in the 19thC, when their sharp metal tips made life after 11p a bloody hell.