Italian awesome hits Third St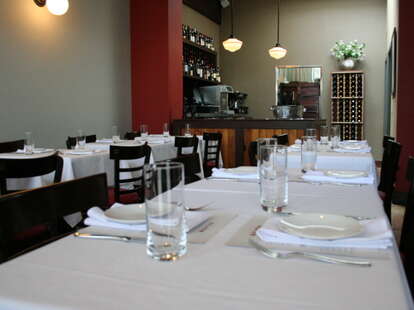 No longer just what Teddy Roosevelt's mustache was full of, Gusto's also now a date-friendly, food-forward eensy-weensie Italian bistro opening tonight near the Beverly Center, courtesy of a first-time chef-owner who made his name at Culina at the Four Seasons.
His new pad's similarly Boot-sy, with Italian deliciousness leading off with starters that focus on meat (duck liver crostino w/ marsala and crispy duck skin; pork meatballs w/ ricotta & tomato...), seafood (red wine-braised baby octopus; whipped salt cod croquettes...), and OMG (beef heart tartare). Post-starters'll count housemade pastas (gargati w/ fennel sausage, Chianti, rosemary & parmigiano reggiano; agnolotti w/ English peas, ricotta, mint & lemon butter...), trad pizzas (pepperoni, quattro formaggi...), and mains like hanger steak (w/ sweet potato, funghi misti, and Aceto Balsamico), and wild king salmon w/ Meyer lemon, cauliflower, hen of the woods 'shrooms, and capers, which the Hardy Boys would have considerably less difficulty solving had they not just eaten all those 'shrooms.
And because according to a recent study conducted by UCLA's David Geffen School of Medicine, alcohol is "great", they'll have a fairly extensive Italian wine list as well as craft beers, which, if Teddy's 'stache has its way, will likely include some (Bull) Moose Drool.