This just-opened, brick-and-steel-laden neighborhood barstaurant's got food from a former Tasting Kitchen guy (including cider-glazed wings w/ chipotle, brown sugar & scallions), but the Housewives-real hotness is drinks from an MB Post dude like the amazing-sounding bourbon, apricot, lemon, honey & Thai chili "Miner Incident", aka every single time you looked at a picture of Selena Gomez before last year.
Recommended Video
Sriracha Bacon Onion Rings Bring the Heat Like Never Before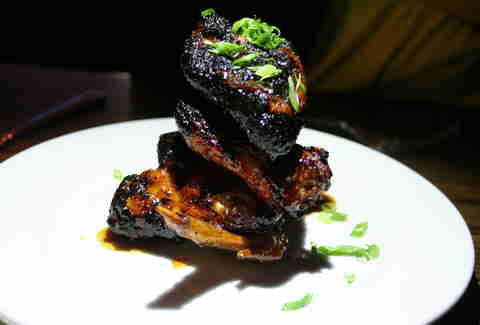 Previous Venue
Next Venue
Venue Description
1. The Corner Door
12477 W Washington Blvd, Los Angeles, CA 90066
Get ready for an eclectic range of ace cocktails -- shaken, stirred, and on-tap -- at this Culver City favorite. The lineup ranges from the smoky Taco Truck with mezcal, pineapple, and cinnamon-infused Campari to the Jesse Pink Gin with gin, bitters, coconut liqueur, and orgeat. Don't miss out on their seasonal hits either, like the Goonies menu with the whisky-hazelnut-cacao combo of the Truffle Shuffle and the rye-espresso-coconut of the Mama Fratelli. With a knockout food menu from Birch's Brendan Collins, you'll want to stay put for a few rounds.