Austria, via Beverly Hills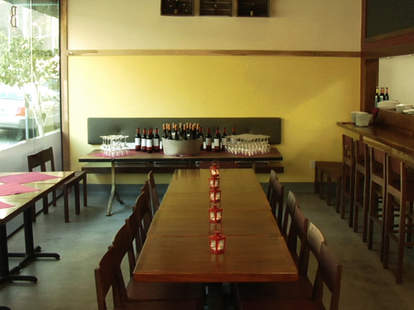 Opening Monday in Brandon, Brenda, and Donna's abusive BF Ray's backyard, BierBeisl claims to be LA's first legitimate Austrian restaurant -- a Von Trapp-approved upscale beer 'n sausage hall w/ a communal-tabled interior, a list of hard-to-find Alpine brewskis, and a wiener-filled menu that's considerably schlonger than you might expect.
The kitchen'll be run by an actually Austrian dude who once masqueraded as a kindergarten teacher in order to find a drug dealer, only to fall for one of the teachers, who ends up surprising him with more than love did time at Patina, and'll milk-simmer meat tubes sourced from a Glendale butcher, including classics like Weisswurst and brats, and not-so-classics like cheese-infused Käsekrainer, and the spicy/thin Debreziner.
In case you don't like dogs, you must like traditional Austrian fare (or, ew, cats), which he'll also whip up (the Austrian fare, not the cats), like a duo of sweetbreads w/ creamy "potato cheese", quail egg, and black truffle; Vienna schnitzel w/ pork, veal, or turkey; venison loin w/ brioche dumplings; and pork two ways paired with Champagne cabbage "fleckerl" and doused with a pork jus that's got mustard in it, not unlike that tramp Mrs. Peacock.
Because you can't drink juice boxes all day, you might as well throw back a few of their hard-to-find Austrian/Euro beers (Stiegl Weisse, Staropramen Lager), as well as a full, unfortunately Pucker-free schnapps bar, which'll carry a range of brandies imbued w/ odd, fermented fruits, ensuring that even the pickiest cocktail drinkers don't feel shafted.