Opening Monday in Brandon, Brenda, and Donna's abusive BF Ray's backyard, BierBeisl claims to be LA's first legitimate Austrian restaurant -- a Von Trapp-approved upscale beer 'n sausage hall w/ a communal-tabled interior, a list of hard-to-find Alpine brewskis, and a wiener-filled menu that's considerably schlonger than you might expect.

The kitchen'll be run by an actually Austrian dude who once masqueraded as a kindergarten teacher in order to find a drug dealer, only to fall for one of the teachers, who ends up surprising him with more than love did time at Patina, and'll milk-simmer meat tubes sourced from a Glendale butcher, including classics like Weisswurst and brats, and not-so-classics like cheese-infused Käsekrainer, and the spicy/thin Debreziner.

In case you don't like dogs, you must like traditional Austrian fare (or, ew, cats), which he'll also whip up (the Austrian fare, not the cats), like a duo of sweetbreads w/ creamy "potato cheese", quail egg, and black truffle; Vienna schnitzel w/ pork, veal, or turkey; venison loin w/ brioche dumplings; and pork two ways paired with Champagne cabbage "fleckerl" and doused with a pork jus that's got mustard in it, not unlike that tramp Mrs. Peacock.

Because you can't drink juice boxes all day, you might as well throw back a few of their hard-to-find Austrian/Euro beers (Stiegl Weisse, Staropramen Lager), as well as a full, unfortunately Pucker-free schnapps bar, which'll carry a range of brandies imbued w/ odd, fermented fruits, ensuring that even the pickiest cocktail drinkers don't feel shafted.
Recommended Video
This Mac & Cheese Taco With a Bacon Shell Might Eliminate Tortillas Forever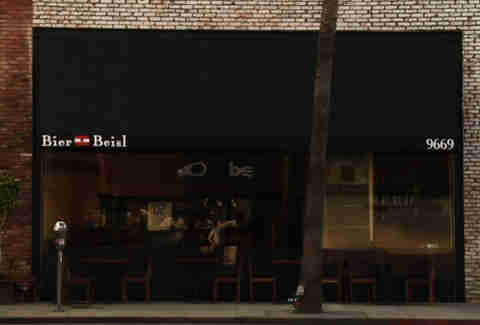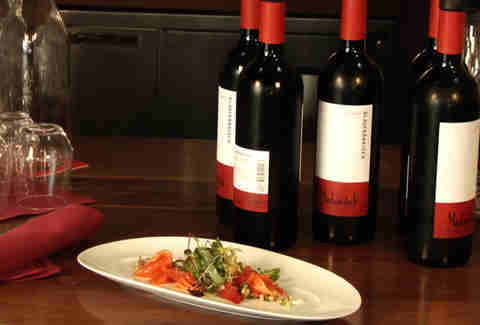 Previous Venue
Next Venue
Venue Description
1. BierBeisl
9669 Santa Monica Blvd, Beverly Hills, CA 90210
Probably the greatest Austrian import since the Schwarzenegger himself, BierBeisl continues to solidify its name in Beverly Hills as a go-to spot. Select craft beer from Austria and Germany coupled with its insane-sounding sauteed sweetbread, are but two reasons of many to check out what the hype is about.