Like college, but with more bacon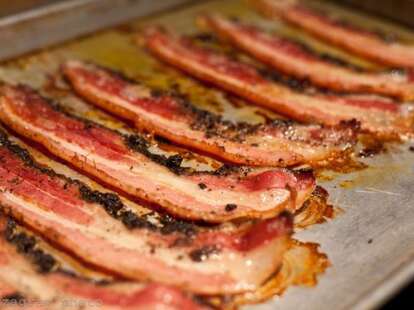 Interestingly not a lecture series about the crippling doubt a man faces for decades after turning down Tremors II, Bacon 101's launching this Sunday at Surfas, where the owner of the beautifully bacon-themed artisanal snack shop Cast Iron Gourmet will be giving lessons on various ways to pork up a meal, which hopefully involves stuffing food with things other than money for unnecessary public works projects.
All cooking equipment's provided, and you'll get to wolf down your creations come the end of class; BBQ's the theme of the first one, during which you'll get step-by-stepped through making a fresh fruit & crispy bacon salad w/ bacon vinaigrette, a hot dog w/ spicy bacon relish, and even potato salad w/ bacon fat mayo -- harsh, as O.J.'s looking pretty svelte these days considering the lockout and all. Because one night of porking is never enough, she's currently got two more sessions scheduled, with one entirely devoted to swine-enhanced desserts, and the other all about pairing bacon with booze, far preferable to chasing it with the standard Pig Gulp.
If you can't make the classes, the Cast Iron website's got some sexily insane bacon snacks you can order, ranging from duck bacon, to bourbon bacon chutney, to pig-fat-fried corn nuts dubbed "Pork Nuts", so have fun purchasing and subsequently trying to eat Trent Lott.