The Father's Office guy's new Asian joint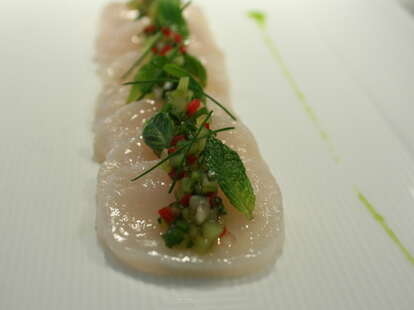 Consistently staking your reputation on the one thing you're known for can get boring after a while, although Journey doesn't seem to mind. For eats from a guy famous for one thing -- and now taking a chance on another -- check out Lukshon.
Finally aiming to open next week after months of anticipation, Lukshon is a modern, upscale Asian foodery from the guy behind Father's Office and its famed burger, done up in a space that features a fire-pitted outdoor patio, walls constructed of walnut and teak, and an open kitchen, which doesn't care if you use other kitchens, as long as you're honest about it. Food's uniquely South Asian w/ hints of Dutch, French, and Portuguese, with mains like sea bream w/ Taiwan spinach, black bean ghee, & sambal ijo (green chile sauce); garlic pork belly w/ grilled rice cakes & garlic chives; and Prince Edward Island mussels w/ green chile rempah, coconut, lime, and Thai basil; they've also got noodle dishes like dandan noodles w/ Kurobuta pork, sesame paste, preserved mustard greens, and peanuts, and Chinese chicken dumpling soup w/ pea sprouts, 63 degree egg, and superior broth, which may be true, but Swanson certainly doesn't need to know. For apps and sides, hit up the foie gras ganache w/ carob, Ceylon cinnamon, puffed rice, and tamarind gastrique; the beef tartare w/ pickled cucumber, chile, onion, and herbs, or the garlic & sichuan salt-abetted spicy "chicken pops", also something you should NEVER say to middle-aged Marty McFly.
And if you just want to sip drinks and talk about Cupcake Wars, their cocktail/booze program features rare, Asia-imported spirits and unique mixed drinks like the vodka/ sriracha/ Thai basil/ kecap manis/ prawn salt "Shrimp Cocktail" and the "Hot & Sour Gimlet", w/ gin, dragon chile, lime, Thai basil, and Vietnamese mint -- though have too many, and the next morning you Won't Stop Believing... just how badly you feel.