The Chego! dude brightens up Venice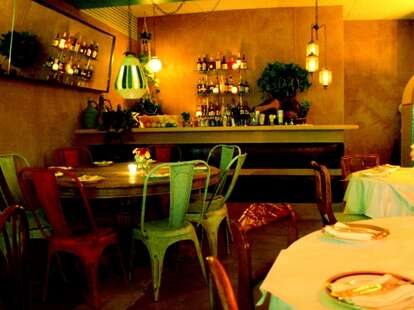 Because opening a place called Shady Spot would make more sense in MacArthur Park, the food prodigy behind Kogi, Chego!, and A-Frame instead opted to call his Venice-based project Sunny Spot, transforming the Beechwood space into an eclectic shared-eat-heavy gastrobistro featuring gilded mirrors, a standing-room-only rum bar in a room sexily dubbed the "Rum Den", and a patio lined with tall reeds.
The crazy menu's a deviation from the chef's Asian street-food sensibilities, with the likely-changing-a-lot-'cause-dude's-got-palate-ADD roster including dishes like "Slow Roasted G.O.A.T. (Greatest of all Time)" w/ pickled mango, a pineapple pork chop to be named later w/ Red Stripe glaze, and double-coated, double-fried "What A Jerk Wings", also what Paul Reiser said when the show bumped his off of Must-See TV. Cocktails are equally inventive and sassy, like the Jamaican Pot-still rum/ habanero pineapple/ lime/ absinthe "Dry Harbour", the Pisco/ ginger/ lemongrass/ lime/ Fernet Branca "Chilcano Bay", and the tequila/ mezcal/ Falernum/ apricot/ lime "Westfall", which, depending on the way you're facing, is exactly what you'll do if you drink three of them.
And because pudding pops no longer really exist, they're slinging other desserts like housemade caramels w/ Maldon sea salt & toasted cashews, coconut ginger sorbet, and sweet potato souffle w/ marshmallow ice cream that's toasted, much like the bulk of the population hanging in MacArthur Park.
Lobster photo by Eric Shin