Opening today in Pasadena, Trattoria Neapolis's an awe-inspiring, two-story ode to Italy, with a crazy-diverse interior sporting everything from a sun-splashed main dining room with skylights, to semi-private, exposed-brick enclaves, to a towering bar with built-in flatscreens, wine racks, and what looks like a miniature version of the Back To The Future clock tower -- hopefully it won't make you Mad, Dog

The menu's from an award-winning Four Seasons chef (whose last name is Wigger! Seriously!), and'll include Boot food like veal scallopini (w/ Tuscan black kale & lemon butter), wood-grilled Wagyu flat-iron steak (w/ crispy honey onions & porcini BBQ sauce), and osso buco w/ a lamb shank braised in a Craftsman porter, whose color can best be described as Black... & Decker. They've also got a schload of awesome-sounding pastas (hand-cut linguini w/ clams, pancetta & jalapeno; rigatoni w/ short rib bolognese), wood-grilled pizzas (smoked chicken w/ asiago & peach; pork shoulder w/ taleggio), and crazy apps, including pickled-fennel-enhanced lobster risotto balls, and crispy potato-paired baby octopus -- a dish that no doubt has some serious legs. Or at least tentacles

In case you're not already on the 110 on your way over there yet, or, more impressively, you are and have your computer on the dash so you can still read about the drinks: they've also got a full bar with a beer list from the Beer Chicks, and cocktails from an American Bartender of the Year nominee, including the mescal-based "El Santo," which also uses a rhubarb bitter, or what you'll be when you realize you do need roads to get to this place.
Recommended Video
Garlic Bread Meatball Bombs Are a Bite-Sized Italian Meal
Previous Venue
Next Venue
Venue Description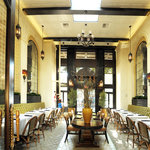 1. Trattoria Neapolis
336 S Lake Ave, Pasadena, CA 91101
Want modern Italian cuisine with artisanal in-house pasta, bread and salumi? Then you'll want to try Trattoria Neapolis - the premier Italian restaurant that is one of Pasadena's culinary treasures. Spacious with 150 seats, enjoy award-winning traditional cuisine, an extensive wine list, and an absurdly substantial cocktail program.