Because you don't wanna eat with your own family, anyways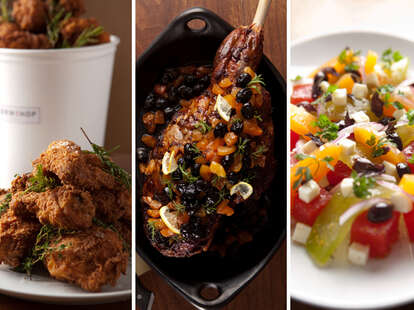 No longer content to just fill your belly during the day without watching you get slaked and tell embarrassing stories about your "open" relationship while in Japan, highly lauded, fresh food-slinging Farmshop just now got its liquor license and're finally opening for dinner with a chef at the helm best known for doing time at Thomas Keller's Ad Hoc up in wine country, which is significantly more pleasant to hang out in than whine country, though to be fair, France does have some great grapes.
Like Ad Hoc, dinners are all going to be three or four courses served family-style, and you won't know what you're getting 'til you get there, since the menu changes every night, though they're promising approachable farm-to-table stuff with entrees like a spiced lamb leg w/ lemon, apricot & black olive or rib eye w/ walnuts & wild mushrooms; starters like tomato salad w/ dried fava bean hummus, fried chickpeas, and olive toast; sexy cheese platters, and desserts like a buttermilk panna cotta w/ blackberries -- a solid choice, as they need to be used for something now that everyone's got a smart phone. Sundays are always gonna be AH-developed, Tuscan herb-enhanced fried chicken w/ sides like poppy-seed slaw & sweet corn/peppers, and the booze menu's got quality soju cocktails (the "English Hot House" w/ cucumber juice, agave syrup, and lemon) as well as an extensive wine and beer list featuring bottles that're mostly from California, also what people from Connecticut say after living in LA for three years.
Also coming soon's an attached market w/ a butcher and bakery that'll sell to-go ish like cheese and charcuterie -- a great thing, even if your open relationship with both over the past few years has made closing that much harder.