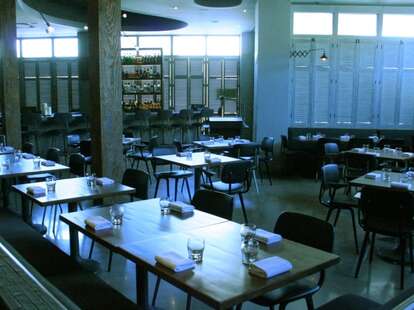 It can be daunting to walk around with great expectations dangling over everything you do, especially if it's the hardcover-bound special edition that's really heavy and threatening to break the string at any moment. For a restaurant trying to match its own set of damn high expectations, check out ink..
Finally opening tomorrow after months of fits and starts and kind of depressing days where they'd just sit around and watch old Empty Nest episodes, ink.'s a wide-open gastrobistro from Top Chef winner Michael Voltaggio, sparsely decorated with wood-slatted windowshades, Edison lightbulbs, and an art piece that looks like a smattering of cooking tools.
The still-kinda-in-flux menu's laid out with a smattering of options that can be ordered either individually or as a tasting menu, featuring creative gastronomy like iberico de bellota pork loin w/ romesco "beans", mushroom chicharron & BBQ caramel; spaghetti w/ giant squid, squash & hazelnut pesto; and octopus w/ popcorn & piquillo peppers, a holdover from his days at the Dining Room, which is a place where people...hmmm, go swimming? Is it a gym? Kinda hard to tell from the name.
And if you happen to bring an ankylosaurus or even just a girl who eats plants, they'll be psyched because the vegetable action's very legit, with tree-based dishes like mashed potatoes arted up with seaweed, and carrots with nasturtium, yogurt, vadouvan, and an edible "spiced soil" that totally sands up on its own.
If you have a hard time getting reservations right away, they're also taking walk-ins for seats at the bar, where you'll get to order cocktails from a badass mixologist with his own set of great expectations, which everyone expects he'll meet, as failing would be sooo Dick...ens.