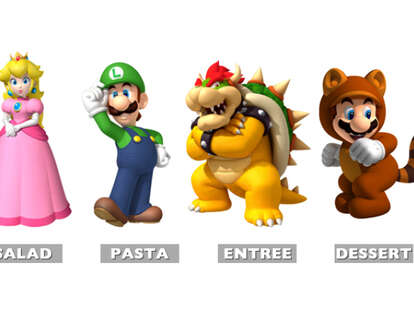 Launching today in LA after finding success in SF, Kitchit's the anti-Jason Schmidt; a "kitchen concierge" service that'll hook you up with a pro chef -- including dudes and ladies from the likes of Eva, Wilshire, and BLD -- to cook your next dinner party at a shockingly affordable price point that comes with a full-service attitude (includes cleaning), and a new-to-the-system feature where you can split the bill evenly before the meal even happens. You can work with your chef-of-choice to build a custom four-courser, or just sign up for ours: an eight-person, just-for-Thrillist dinner cooked by a conveniently nerdy Le Cordon Bleu grad and entirely based on Super Mario Bros, just like those college nights where you were the one powered-up on magic mushrooms.
A course-by-course breakdown:
Princess Toadstool Salad: Beets and herbed goat cheese rep the Princess, who's topped with Champagne vinaigrette and hazelnuts, but thankfully doesn't get taken away from you every time you get near it.
Luigi Linguini: This Mario Bros 3-inspired dish drops with garlic-white-wine-sauced shellfish (scallops, butter poached prawns, clams, mussels) atop a bowl of spinach linguini meant to represent Mario's greener, skinnier brother, something you'll never be if you keep eating like this.
Pepper-crusted Bowser Filet: This boss-sized steak's topped w/ mushroom-y "Goombario" sauce, Yoshi-colored broccolini, and a pomme puree inspired by the bright yellow of Mario's invincibility star, so expect it to look pretty flashy.
Tanooki Tiramisu: Just like his Raccoon persona (Tanooki!), this similarly colored dessert is best after hitting some super leaf.