Being stuck by an airport is never a good thing, unless you know the WEP password for the network, in which case: it's Gilmore Girls streaming time, son!!! For an even cooler reason to be stuck by the kind of airport not purchasable at the Apple store, check out Deck 33

Open to the public tonight, Deck 33 is surprisingly not just a chant during Lakers-Celtics games in the '80s, but in fact a steel furniture-clad, pool-viewing, all-patio eatery atop the recently redone Custom Hotel right near LAX, featuring a chef who studied French food in Japan before becoming lauded for his cooking in places like San Francisco, New York, and, um, Omaha. Food's slightly Asian-leaning, with entrees like soy-glazed black cod w/ hijiki brown rice, rainbow swiss chard, & baby bok choy; beef bolognese penne w/ maitake mushroom truffle oil & crispy sage; and a steak w/ mushroom ravioli, roasted tomato, broccolini, and pee wee potato-mushroom ragout, though they'll presumably only bring that out if you know the magic word. If you're after something smaller, they've got aonori-crusted calamari (w/ lotus root chips); beef carpaccio w/ wild arugula, daikon & ponzu; and coconut-sake wine-broth soaked black mussels, which, sadly, are not from Brussels. (Van) Damme it!

If your magic word is "booze", they've got a specialty cocktail list that includes the vodka/ St. Germain/ grapefruit "Improper Greyhound" and the whiskey/ iced green tea/ orange-twisted "'No Hangover", also what you said to Netflix's personalized recommendations while you feverishly searched for GG's sixth season.
Recommended Video
This Mojito Hot Toddy Is the Destroyer of Colds
Previous Venue
Next Venue
Venue Description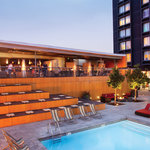 1. Deck33
8639 Lincoln Blvd, Los Angeles, CA 90045
Layover woes got you down? Fortunately, there's a haven of good drinks and poolside views just down the road from LAX at Deck33. Whether you choose to lounge in a cabana or post up by one of the fire pits, let the twinkly mood lighting and modern aesthetic soothe your travel-weary soul.