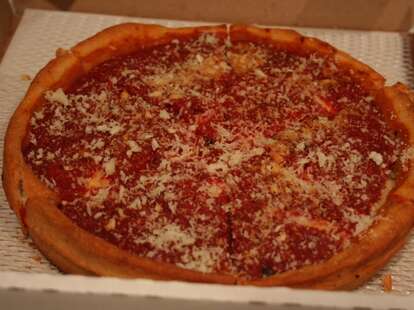 The number of actually good things you can buy in a parking lot is pretty small -- there's pumpkins, Christmas trees, and also probably drugs that aren't just consumed on December 25th. Adding Chicago-style 'za to that esteemed list, Hollywood Pies.
Now taking orders, HP's a deep-dish pizzeria from an entrepreneurial San Diego-based mechanical engineer (who else?) who clearly revels in the challenge presented by having no storefront, delivering to only a very limited area and demanding takeout orders picked up in a nondescript parking garage under/behind an unmarked building on La Cienega...as much Deep Throat as it is deep dish. Some ingredients are shipped in from Chi (they won't say which ones, but it probably rhymes with smausage) with options ranging from the whole-milk mozz/ sausage/ pepper/ onion "Mancini", to the sausage/ pepperoni "Bugsy", to the meatball-loaded "Hollywood Pie", which is much more than 3.14 times what the average person in Hollywood eats.
In case you're not totally into their odd pickup business, they're planning on rolling out something mobile in the next couple weeks, which after visiting that parking lot, pretty much rules you out.